Marilyn Bates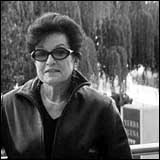 Marilyn Bates, author of It Could Drive You Crazy, was a "Poet in Person" with the International Poetry Forum and a fellow of the National Writing Project at the University of Pittsburgh. She was an invited reader at the Noontime Reading Series at the Library of Congress in Washington, DC, and at the James Wright Poetry Festival. Her work has appeared in The MacGuffin, The Paterson Literary Review, One Trick Pony, Poet Lore, and The Potomac Review, and anthologized in Pass-Fail: 32 Stories about Teaching; Aunties: 35 Writers Talk About Their Other Mother; Pass-Fail, My Auntie's Book; Voices in Italian America; Along These Rivers; What Rough Beast: Poems at the End of the Century; and The Widow's Handbook. Her one-act play, Life Without Nipples, was produced by the Pittsburgh New Works Theater Festival in 2007 and at Womanscene, a fund-raising event for the Lupus Foundation. She recently completed a memoir, Bloodwork: Married to Diabetes for Six Decades. Her website is http://www.pitt.edu/~bbates.
It Could Drive You Crazy
You stand there trying to make sense to the mechanic.
He points to a space under your car,
mumbles about the universal joint.
Your own joints turn to rubber,
blood sugar dropping you into insulin shock.
You pop coins in the Coke machine,
your throat opening to a chug of sweet.
You think of all the booze you guzzled,
smooth as oil into the crankcase.
A vice around your lungs steals your breath
while you wait for sugar to stop this skid into panic.
You think about the transplant news—
Doctor Starzl's baboon liver,
moonfaced kids on steroids.
Now they're going for six organs at a time,
and you know you'd grab it,
just to stay alive.
The sugar wrenches you back to the mechanic saying,
The axle's bent. You hit something?
You think, Yeah, I ran into something,
ponder the curb of your own life,
all the turns you missed,
the one-way alleys of romance,
the dead-end husbands,
the diabetic's shortcut life.
I could order the part
, he says.
Nah! you say. Just fill it up,
and keep on driving.
Finalist in the Parnassus on Poetry Contest.
Frozen Sperm & Frozen Eggs
My mother and I
from the kitchen table
tune in Oprah. Her
guest is forty, and she's
sparring with her Ex
over frozen sperm.
The audience torpedoes
an ethics professor
who dubs her progeny
"souvenir babies."
They cheer instead
for the grieving couple
who've rented a womb
for their daughter's
frozen egg, an unborn
orphan left behind
in a cancer clash.
"Who'd tell those stories
on themselves?" my mother
asks. She's always had
a husband, blitzed by men
when she was young. She
doesn't understand those
who'd trade the delicate
whistle of a phallus
for a ghost at the end
of a loveless match.
She doesn't understand
the pathology of Alone.
How it is to be a blank
on the calendar that's
never pencilled in,
a platter of salmon served
to nibbling strangers,
delving in for the center
cut, leaving limes
and fins for the clean-up
crew. How it is to be
a player in some
Broadway version of
Don't Kiss Me Kate, every
actor in his fifteen
minutes of fame, the night
stretched out in an endless
Warhol film, looped to
replay, replay.
"Who'd want a frozen
egg, a frozen sperm?"
my mother asks, swabbing
honey in her cup.
I add lemon to my tea
and say, "We'd do anything
to get that little fuse
that sets our womb
ticking again."
Anthologized in And What Rough Beast: Poems at the end of the Century.
Apples
Together we'd peel them, fingers on the knife.
Only she could strip yellow skin in a single coil.
Splashes from our work broke the silence
of the kitchen as we quartered them into cold water,
tucked them into an unmade bed of crust,
the recipe never written down.
Hands that knew the apple knew how to make
edges of her bowl swell with the muscle of dark cake,
rich as his taste for other women,
he stepping out, she stepping back into the ritual
of collaring a man's neck with a starched shirt,
every swish of the iron erasing one more dream.
She could fill an unspent life with work.
Fingers pricked by curtain stretchers,
turned a mosaic of lace curtains onto basement walls.
At night they darned a tattered knee into neat rows
like sawed logs of hickory lining the back porch
where she swept and swept as if to polish the stone stoop.
When he swaggered in, fish scales flecking his overalls.
she forgot hands, forgot work; only her breasts remembered.
Flaying the silvered trout, she strung them to smoke
over alderwood, their red throats open to the sky
as if aghast at hands that split them
on the green wood stakes.
Appeared in The Crab Creek Review.