Mike Schneider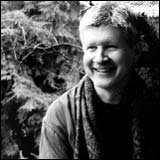 photo by Patricia Maurides
The Car Window
I'm in the back seat of our Ford wagon
or was it the Olds? — with the world
at the hub of the steering wheel, promising
we'll see it all. I'm twelve
and it's November, I think,
when the early darkness whispers
and I'm inventing incredible love songs
Rebecca of the beckoning eyelids . . .
because Becky Smith wants
to go roller skating with me.
Both hands on the wheel, my father
steers through the night.
At a stop-light, he leans out
to release a spout of brown juice
from the Mail Pouch wad in his cheek.
Beside a farmer's field we pull over.
Nature's outhouse,
he says
and my mother says his name,
Snip
,
meaning
Please don't
, and he laughs
meaning
You don't know
.
A man's life is like this . . .
steam rising as his piss stream
puddles the frosted stubble.
Back on the road, he keeps
the window wing pushed open,
night air like a cold river rushing
past him into my imaginings
of a hayride, moonlit trees,
Rebecca. I pretend
I'm not shivering with my brothers
under this wool blanket, olive-drab, scratchy
remnant of the Army, his distant, mythic past.
It's cold,
says Bobby, who's seven and doesn't
know the drill. The old man's at the wheel.
Pull up the blanket, shut your mouth.
Hold on tight to dreams.
Guayaba
Tropical afternoons like a long boat
with black sails and a sharp prow
splitting the air, thick with emptiness
and anguish, drizzle of foreign tongues,
words and meanings like stray stones
in the street, skipping away.
I remember orange flowers
like early stars bristling at twilight,
the distant tree of fire
arbol de fuego,
and there
in the flickering light of memory —
slender ankle
undisturbed through the dust
she came like a small deer, a young girl
bringing this strange hard fruit
guayaba.
I took it, biting hard, as she showed me,
the fruit yielding,
dulce,
she said.
Soft and pink,
rosita,
she said,
the color of dying light.
Quietly as sunset, wholly
as indifferent to me or anything
she turned and walked toward the mountain.
I felt the certainty and grace of evening
approaching shadow by shadow,
the print of her cotton skirt
sinking into a remnant of memory,
a woodcut or an engraving
on a thumbed page.
Once I saw a jaguar flitting across a road,
slipping into a field of corn
so quickly I wasn't sure I'd seen at all.
Esteli, Nicaragua, October 1984
Crows
With stiletto tongues they scratch the air
to say Light has come again.
They insist the farmer should arise.
He rubs his eyes.
What do crows know?
His grandmother in heaven
on her kitchen rocker
knows that crows are politicians
strutting through the House of Lords
in black morning coats with long tails.
Their feathers shine
with iridescence as they peck at carrion
deer along the highway. Their heads
rock back and forth on spindled legs
as if they're knocking at a door.
Knock, knock. The farmer hears
his day's work crying out
to be loved. He rises to mow his field
where last night a doe
made a bed for her fawn to awaken
in dew-misted, sweet alfalfa.
The cutting machine is business
of the day, chewing
a ten-foot swath. It spits pungent green
bales, doesn't sputter or cough.
Like a crow perched high, he peers
ahead, vigilant for sun glint
off an eye, a dappled brown sack
of kicking life, asleep
like an unwritten poem to be
awakened, brought forth,
awkward, long legs dangled
from his cradling arms. Already
this year, he's lifted three to safety.